Is your IT support company ALWAYS fixing your technology… is it time to switch to something better?
While fast response times are essential for your business IT support, you need reassurance that when a disaster strikes, your IT support partner has your back and will get you up and running again in no time.
However, too many IT support providers are spending most of their time reacting to issues and not enough time preventing them.
While it's true that you can't prevent 100% of all IT problems, even with the most fabulous setup in the world, there will be the occasional breach or system failure. However, a proactive approach will dramatically reduce the number of issues and the severity of what does arise.
Because when your IT support partner is doing their job correctly, they will spend the vast majority of their time monitoring, maintaining, and updating your systems to prevent unnecessary downtime, lost revenue, as well as opportunity.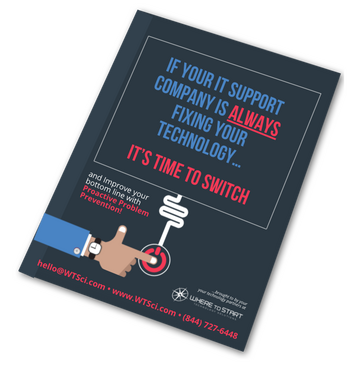 It means they're spotting and dealing with potential problems before they have any lasting impact on your business. We call this Proactive Problem Prevention.
If you don't have this with your current IT provider, you really need to read our guide, where we explore the countless benefits for your business of a more proactive approach to your technology.
Please take advantage of our new guide and see what IT Support with Proactive Problem Prevention can be like for your business.